Chanel Paris-Moscou Pre-Fall 2009 Full Show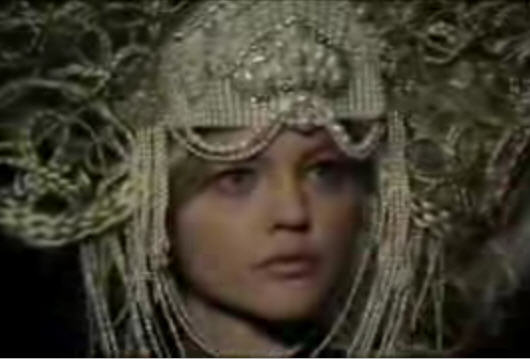 Chanel Paris-Moscou Pre-Fall 2009 Full Show
Ruby red lacquered bags like Fabergé eggs swinging from gilded chains, heels sculpted like upturned onion domes, hair-and-pearl-adorned tiaras like those of Byzantine empresses—oh, and strict black Soviet "uniform" suits. Yes, this was Karl Lagerfeld setting off on another of his light but learned excursions into Coco Chanel's exotic history with men: in this case, the Grand Duke Dmitri Pavlovich, and the Russian inspirations—the Ballets Russes, Constructivism, Byzantine jewelry, and Slavic folklore—triggered by their relationship.
"Paris-Moscou" was Lagerfeld's theme for the semiannual collection designed to show off the skills of the French embroiderers, milliners, goldsmiths, and shoemakers the house supports. And it was also the subject of his directorial debut. As the audience—which included Princess Caroline of Monaco, Diane Kruger, Emmanuelle Béart, and Clémence Poésy—took its seats in the plush velvet and mahogany Théâtre le Ranelagh, the show opened with a silent black-and-white cine-skit on Coco's flirtation with Russian-Parisian émigré society in the 1910's and 1920's, featuring a cast of Lagerfeld's friends. (The short film is now playing on chanel.com.)
Fashion-wise, the then-now parallels were embodied by the Russian models, led out by Sasha Pivovarova. The clothes—extravagantly embellished with sequins and pearls, tufted layers of chiffon, and sparkling feather fringe—were accessorized with a winter fantasia of military fur hats, gold Cossack boots, and pseudo-revolutionary badges, as well as a smattering of very 2008 leather leggings. If today's oligarchettes are still in the market for super-spending, there'll be plenty here to keep the rubles flowing. And for anyone with a yearning to buy in a different way, here's another thought: The goody bag guests took away contained Cuir de Russie (the classic scent Chanel devised with Ernest Beaux, the czar's perfumer, in 1927) and the new Chanel nail color release—the deep blue, iridescent Nuit de Russie.
Previous
Fashion TV – Valentino – Summer 2009 – Paris Fashion Week