Top Japanese Designers at Paris Fashion Week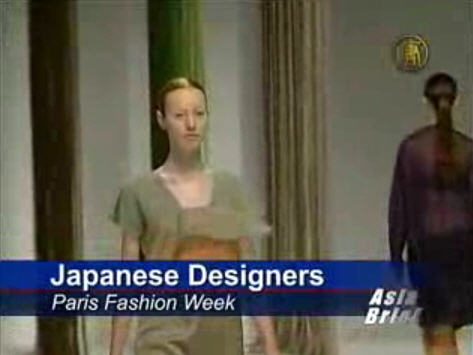 Top Japanese Designers at Paris Fashion Week
ANCHOR:
Famous Japanese designers, Issey Miyake and Yohji Yamamoto present their spring/summer 2009 collections at the Paris Fashion Week. Lets take a look.
STORY:
Born of a "colour hunting" expedition into the Amazon rain forest, Issey Miyake's ready-to-wear collection fell gently on Paris Fashion Week like warm tropical rain.
Miyake and his design team carried 3,000 color samples into the Amazon.
 They went there to explore the natural colors of the jungle and extracted eight primary colors that are now part of the new collection.
[Issey Miyake, Fashion Designer]:
"We need real materials and real colors, instead of taking things from magazines or Web sites. Nowadays there is so much diversity in this world, but I think we need to get the real things in this way."
 
From simple knee-length dresses to bikini combinations topped with sheer over shirts, to light dresses in a variety of styles, the new Miyake collection captures the colors and movements of the tropical forest.
Designer, Yohji Yamamotos presented his new collection in two segments: A series of dark, elegant dresses and ensembles with subtle patterns, paired with flat-soled sneakers, and then flowing white and ivory garments.
The simplicity of the garments, the stately pace of the models, and the soothing music all combined to create a rare sense of tranquility at the show.
Previous
Balenciaga Spring 2009 Fashion Show