"Weird Beauty: Fashion Photography Now" and "This Is Not a Fashion Photograph,"
at the International Center of Photography (New York)
Through May 3, 2009
The
International Center of Photography (ICP)
has designated 2009 as their year of fashion, staging half a dozen exhibitions — historical, contemporary, haute couture, and antifashion. Three shows debut this month, the first being a paean to
Edward Steichen
's legendary Condé Nast years in the 1920s-'30s, full of devastatingly sumptuous portraits of actors and models. Moving up to our current era, "Weird Beauty: Fashion Photography Now" looks at how photographers such as
Steven Meisel, Cindy Sherman
, and
Paolo Roversi
draw from graphic design, youth culture, and digital media to make their memorable
jolie laide
images. And "This Is Not a Fashion Photograph," curated by
Vince Aletti
, reflects on how documentary and street photography (by such artists as
Lisette Model, Danny Lyon, and Weegee
) are influencing contemporary fashion photographers.
www.icp.org
" Year of Fashion" originally appeared in the February 2009 issue of Modern Painters. For a complete list of articles from this issue available on ARTINFO, see Modern Painters' February 2009 Table of Contents.
http://www.artinfo.com/news/story/30127/february-2009-table-of-contents/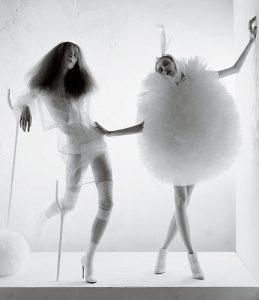 Tim Walker, "Alice Gibb and Olga Sherer, Sennowe Park, Norfolk, England" (2007).

C-print, 24 x 20 in.

Courtesy and © Tim Walker
Previous
My favorite dress ( Sport dress )